Another beautiful day, another milestone for Club '51. First, we unveiled our giant flag, then we made our first appearance in national media. Then, just yesterday, our Facebook page reached the 500 mark!
But that's in the past, and we like to live in the now (Disregard the name of our club, just briefly). Today, we were featured on local radio's hottest slot – the 10:30am on the Tommy Marren Show! A big well done to our own Anne Marie Flynn for her performance this morning. But that's not all! Almost simultaneously, our website saw it's 15,000th hit! Quite a way to go to reach our good colleagues over at the MayoGAABlog, who reached a staggering 1,000,000 hits last year, but it's a hell of a start!
We have plenty in the pipeline between now and June, but first thing's first: Derry on Sunday. I'd like to echo the post from earlier in the week about our relocation to the MacHale Road sideline. Lets make the last home league game of the year (and potentially our last home game in 2014 full stop, depending on how results go elsewhere in Connacht) one to remember. We'll be unveiling our new flags, too, so make sure you join us! Remember, everyone is welcome, all of the time.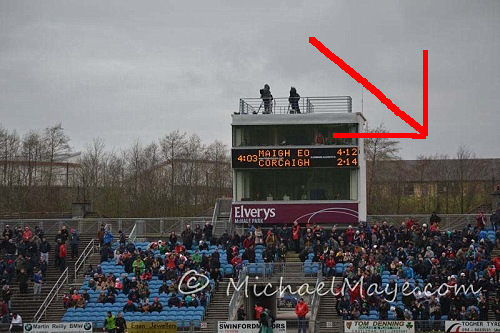 After the shameless theft of the famous "Black Rectangle", you can now locate us by following the floating, crudely drawn red arrow in MacHale Park.
We'll also be announcing the winner of our Super Duper Flag Design Competition tomorrow and presenting the lucky winner with their very own Club '51 t-shirt! We have been swamped with entries, so we will be working late into the night, again, tonight to pick our winner!
See you all Sunday, lets hope the sun keeps shining and we find ourselves planning for Croker Sunday evening!
MayoMark